March Madness
Hi to all our loved friends, family and supporters scattered across the globe! It has been awhile since our last post and we wanted to update everyone with what has been going on in our lives here in Battambang!
1) Many opportunities to teach! Garth has taught in different capacities for 6 weeks out of the last 3 months to our DTS(Discipleship Training School), SBS(School of Biblical Studies), as well as other DTS's that have come to Battambang, and our Phase 2 school. Caroline has also had an opportunity to share and teach in our Phase 2 as well! What an amazing opportunity to continue to share, foster our values and teach and disciple so many people from all around the world, including our local Cambodians!
2) There have been many guests have been coming from all over the world coming to visit our ministries! As we continue to host and entertain our guests, it's been a privilege to see others "catch the vision" as well and really see God moving here in this place. We would love for YOU to come visit us too and see why we love this place and the Khmer people so much!
3) Many Travels- In January, we had the opportunity to travel to Chiang Mai, Thailand as a family along with Garth's parents who were visiting us for 3 weeks. We were a part of gathering of workers in a closed nation and it was great to network and see how we can continue to partner together in the future. Garth also had leadership meetings in Chiang Mai for YWAM.  This month, Garth also has traveled to another near-by closed nation to encourage and challenge the local workers to continue to grow the ministry there and strategize with them. He also, along with one of our main Cambodian leaders, Rady, traveled to Korea for several days, for YWAM's President's Gathering, which is 40 of the largest bases in the world to come together annually and seek the Lord on how to move forward as a movement and strategize.
4) Kiddos– Lyla is a month shy of 2.5 years old and Gunner is 4 months old! Lyla is speaking a lot more (in 3 language- Khmer, Korean and English) and Gunner is our smiley young boy! Lyla is definitely an extrovert (like Garth) and loves to socialize and mingle with anyone and everyone. Gunner is learning how to firmly hold his neck up(he's almost there) and loves to "talk" to his sister. Lyla loves to read books to her baby dolls and to Gunner and enjoys dancing and singing for Gunner.
5) Future Travels- We will be in the States in April and May to share what God has been doing through our ministry here in Battambang, Cambodia! We are excited and humbled to be given a platform to share what God is doing in this amazing country and we look forward to getting lots of face-time with those we love, support, and believe in us and the vision that God has given us!
6) CAMPUS LAND UPDATE: After filling out piece of property last year with dirt, we have started to put in the basic infrastructure for our land, starting with electricity. Below is a picture showing the electricity poles being put in the ground on our campus land.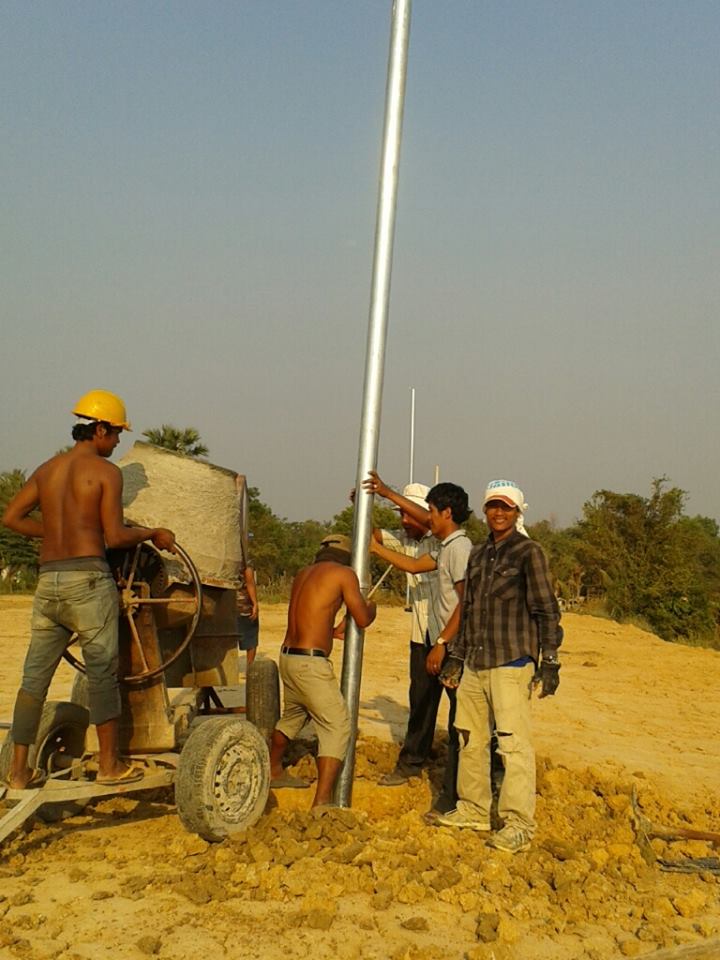 PRAYER REQUESTS:
1) For us to continue to have wisdom in raising up our local Cambodian leaders and God to lead us each and every step
2) For our family's traveling this Spring and all the planning/logistics with 2 little ones
3)For the health, safety and growth for our staff here, as we are 75 full-time staff now
Thank you so much for partnering with us for the sake of the Gospel to spread in Cambodia. We are SO GRATEFUL that you are a part of what God is doing here, through your prayers and support, and we couldn't do it without all of you on our team!
Love,
Garth, Caroline, Lyla and Gunner